This is the Best Cabinet Paint for Cincinnati Kitchens
Testing 2K Poly in our shop
It was an honor to be selected to test a new cabinet finish from General Finishes called Enduro Tintable 2K Poly.
We put it through some rigorous workouts in our shop for over four months. And it's proven to be the best cabinet paint we've used after over 30 years in the coating industry.
This amazing product was made available for professional, industrial, and OEM users in January 2023. Which means it is now available to our customers!
7 Reasons Why We Say Enduro 2K Poly is the Best Cabinet Paint
First, we only use products that keep our people healthy and our customers safe.
Second, 2K Poly is much more durable than retail paint. It's the same professional quality of product used in the factory for brand new cabinets.
This product offers exceptional durability, washability, and phenomenal chemical resistance.
Choose Any Cabinet Color
Water-based tintable 2K polyurethane paint offers the option of adding colorants from any major paint manufacturer's color deck. This means you can choose whatever colors you like, and still get the best cabinet paint in the industry.
Superior Protection
This product is formulated at a commercial level for water and chemical resistance (perfect for restaurant bar countertops). It provides extra protection in kitchens around sinks and dishwashers, and resists chipping, scratching, and scuffing from daily wear and tear.
Ultimate Durability
Kitchen cabinets endure heavy daily use and exposure to constant chemicals from oils and foodstuff. Studies reveal that the kitchen is the most occupied space in our homes. The best cabinet paint withstands this high-traffic wear and tear.
Enhanced Washability
The smooth finish offers improved stain resistance to prevent grime, oils, and spills from penetrating the paint. This makes the cabinets much easier to clean and keep looking new.
Richer Gloss
2K poly amplifies the gloss level for an ultra-sleek shine. The light reflects beautifully off the surface of your cabinets. The product comes in flat, satin, semi-gloss, and high gloss sheens.
Ecological
The best cabinet paint is based on biodegradable ingredients. 2K poly is a non-flammable, VOC compliant with no solvent fumes. And it's 100% made in the U.S.
Better Value
Upgrade the look and longevity of your cabinets to attract buyers and add resale value when you're ready to sell your home.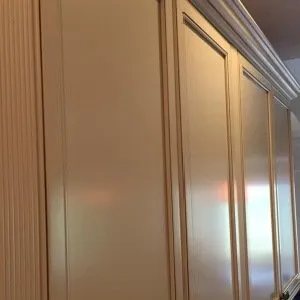 Highly Recommend!
Jim and his crew did an amazing job on our kitchen upgrade! Efficient, professional, clean, and timely with a beautiful result. Highly recommend!
Traci R.
The Science of Enduro 2K Poly
The chemistry behind 2K poly comes out of the automotive market. Designed for wood, steel, and fiberglass, this true 2K product is 100% urethane with incredible hardening capability.
It provides the most durable finish for cabinets that General Finishes has ever created!
How You Benefit From Our Expertise in Coatings
Cincinnati Cabinet Refinishing actively seeks out the highest performing products for our in-house craftspeople and our customers. The best cabinet paint will stand the test of time, and that's what you get when you work with us.
Fast Drying Time
Enduro 2K Poly dries fast. Under ideal conditions (70 degrees F and 50% humidity), it dries to the touch in only 30 minutes. Two hours after the first coat dries, a second coat is applied. Complete cure time is 5 days, which means we can install your newly refinished cabinets quickly.
Edge Retention
Edge retention refers to the ability of a paint or coating to maintain a sharp and well-defined edge when applied to a surface. Enduro 2K poly adheres well to the surface, and doesn't bleed or feather along the edges. The result is a neater and more professional-looking finish.
Hardness and Flexibility
Once cured, the 2K Poly provides superior hardness without substituting flexibility. This combination results in a beautiful finish that will last a long time without cracking or bubbling.
Made in the USA
We're proud to partner with General Finishes, an American manufacturing company. "Made in the USA" means higher quality, better customer service, more jobs in the United States that provide fair wages and safer working conditions, an environmentally friendly focus, and faster delivery times.
Cabinets are Perfect!
We got quotes from 4 different painters, and CCR was by far the most professional and detail-oriented describing the job to us. Zac, the carpenter, first added custom trim to our cabinets, which gave them a much more finished look. They were meticulous, hardworking, and wasted no time getting our cabinets perfect. You won't be disappointed in the quality of their work.

Mary P. - Cincinnati, OH
Superior Products and Workmanship from Cincinnati's #1 Cabinet Painters
By following best practices and more than 30 years experience in the preparation and application of products like Enduro 2K Poly, we guarantee you get a professional outcome.
Using top quality products from reputable brands like Sherwin-Williams, Benjamin Moore, and General Finishes results in exceptional luster and endurance.
Our talented team, dedication to customer satisfaction, and the best cabinet paint on the market ensures you receive incredible results and the highest return on your investment.
Contact us today and share your vision for reimaging your kitchen.
Schedule My Free Estimate
---
Cincinnati Cabinet Painting Service Area
Amberley Village, Blue Ash, Cleves, Colerain Township, Delhi Township, East Walnut Hills, Fairfield, Finneytown, Forest Park, Hamilton, Harrison, Hyde Park, Indian Hill, Kenwood, Lebanon, Liberty Township, Loveland, Madeira, Maineville, Mariemont, Mason, Milford, Montgomery, Mount Adams, Mount Healthy, Mount Lookout, Ross, Springboro, Springdale, Symmes Township, West Chester Township, and Wyoming, Ohio.